FEATS OF STRENGTH
AMAZE YOUR FRIENDS!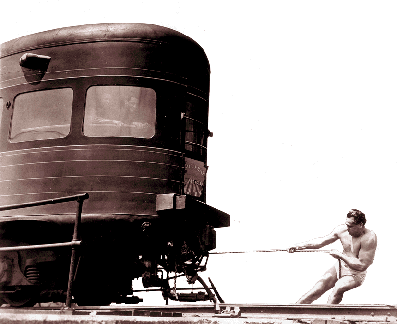 Charles Atlas® Pulls Locomotive - This is an actual photo of Charles Atlas® towing 72 ton Pennsylvania RR car 112 feet along the tracks of railroad's Sunnyside, LI.
No one will believe that you can do these spectacular stunts but this Course shows you how, you'll astonish everyone!

Charles Atlas® tearing a phone book
How to Tear a Thick Telephone Book or Deck of Cards in Half with one easy motion.
Bending a Huge 6-Inch Spike Double.
Smash a 3 1/2-Inch Nail Through 2 Inches of Sturdy Pine Planks.
Bending a Steel Bar 6 Feet Long and 1/2-Inch Thick.
Pulling an Automobile with Your Neck.
Lifting One End of A Car Clear Off the Ground.
Lifting a Man Heavier than Yourself.
Lifting a Man with One Hand.
Lifting a Pony Into the Air.
Holding Two Cars Each Going in Opposite Directions.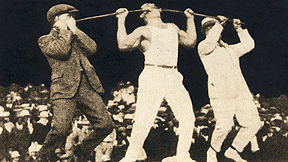 Charles Atlas® bends 6 foot steel bar
with two men hanging off both ends!