1949
Tom Manfre with his Championship Atlas Trophy!

1953
Tom Manfre winning the Mr. World Contest. He was trained by Atlas!

Today
Tom Manfre - an Atlas man for over 50 years and still going strong!
What has Charles Atlas done for me? Well, where do I start? I remember when I was young, I wanted to do anything and everything. I still do. What can I say? I was always physical, and one day, I was turning the pages of a comic book and saw the famous `The Insult That Made A Man Out Of Mac!" cartoon. I thought, "Wow!, this I can relate to." Here was this skinny, scrawny kid named Mac who had sand kicked in his face by a big bully. Mac then decides to use the Charles Atlas `Dynamic-Tension´ course to make himself bigger. He comes back, beats the bully up and wins the girl. I was shocked. Could this possibly be true?
Well, I had to find out for myself. Not to say I was exactly like Mac, but I was fairly skinny. I ordered the course, followed it faithfully every day for 6 months. I decided to mail in photos of myself after I had taken the course and was elated to find out I had won the Atlas Championship Trophy.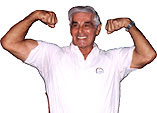 It was at this time that I was invited to meet Charles Atlas himself. I was excited and nervous. Here was my boyhood idol, Charles Atlas. Well, from that moment on, Charles and I became instant family. I mean, he and I were like father and son. Charlie even pushed me to enter tournaments. I won Mr. World 1953, and many other titles after that. I didn´t stop there. I even starred in movies!
Well, that is my story. Did I love the guy? You bet I did. Atlas will always hold a place in my heart. He gave me my start, helped build me up physically, mentally and spiritually. I owe a lot to Mr. Atlas. Today, I haven´t slowed down. Hey, you seniors out there, get your spandex cleaned. Tom Manfre. Take care and as always,
Yours in Everlasting Health and Strength,


Tom Manfre
DON'T DELAY - ORDER TODAY!