If you would like to know anything about Charles Atlas LTD please e-mail us.
CHARLES ATLAS
"THE WORLD´S MOST PERFECTLY DEVELOPED MAN"™
Personal Training In The Art Of Building A Dynamic Life!
NOTED FACTS:

Charles Atlas earned the immortal title, "The World's Most Perfectly Developed Man.™"
Charles Atlas was chosen by a cross disciplined group of health and medical experts, educators, anthropologists, scientists and doctors who viewed Atlas as the perfect male body and placed his physical measurements on file for posterity.
Atlas' measurements are buried along with a 1/8" statue in a time capsule at Ogelthorpe University.
On the Ellis Island website, Atlas is listed number one.
Forbes Magazine selected Charles Atlas as one of the Century's Super Salesmen.
Named one of the Most Influential People of the Twentieth Century by Times Sunday Magazine.
Charles Atlas, founding father of modern-day body building and fitness.
A SHORT SYNOPSIS ON CHARLES ATLAS
Incorporated in 1929 by Mr. Charles Atlas and Mr. Charles P. Roman,Charles Atlas, Ltd. forms the foundatio
n of today's health and fitness awareness. The company is also described as a cornerstone of the modern mail order industry. Charles Atlas, Ltd. holds the distinction of owning the most famous and recognized trademark in advertising history with the "Hey Skinny®" and "The insult that made a man out of Mac®" advertisements, which have appeared for nearly a century via comic books and pop culture magazin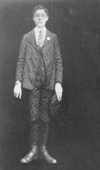 es.
The now legendary cartoon ad, "The insult that made a man out of Mac®" remains in constant circulation around the globe. (The Charles Atlas program has been translated into 7 different languages.)
A statue of Hercules in the Brooklyn Museum changed the life of Mr. Atlas and subsequently millions of his devoted students. Mr. Atlas credited the heroic statue he first saw as a boy for inspiring him to attain physical perfectio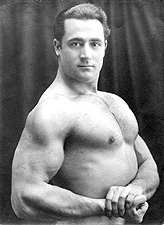 n .
In 1921 and 1922, Bernarr Macfadden , an authority on fitness, health and nutrition who also published "Physical Culture" magazine, sponsored and promoted a natural bodybuilding competition entitled "The World's Most Perfectly Developed Man™" in Madison Square Garden in New York City. In both years, Charles Atlas won. After the second victory, Mr. McFadden decided to stop promoting the contest because he felt Charles Atlas would always win and there would be no competition. Charles Atlas's measurements are on file as being the ideal male specimen for 20th centur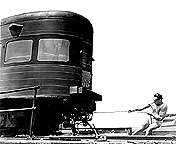 y man.
Charles Atlas has been a perfect role model, a friend to millions and an American icon. Robert Ripley of "Ripley's Believe It Or Not," once wrote about Mr. Atlas, saying he was in fact an amazing man. Ripley actually witnessed Charles Atlas save a group of individuals by swimming out to sea in rough weather and pulling their boat which was out of control to shore.
Charles Atlas, Ltd. remains one of the oldest American companies still in operation. The company has weathered time, two World Wars, recessions and the stock market crash of 1929. An American icon lives on and continues to help out the little guy by keeping beaches safe all around the world.