SECRET KARATE / JUJITSU LESSON
It doesn't matter how big your opponent is. A small man who knows the tricks of Jujitsu can easily overpower a big man who's packed with brawn. Developed in the Orient, and kept a secret of the warrior class for hundred of years, Jujitsu and Karate enables you to render anyone helpless in a matter of minutes!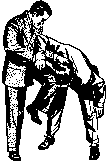 The Knee-Jolt is so deadly that it can easily dislocate your opponent's jaw.

SOME SKILLS YOU'LL LEARN:
Arm and Collar Hold with Outside Stroke.
Wrist Lock.
Arm Hold and Cross Buttock.
Arm Hold and Knee Stroke or "Knee-Jolt."
Arm and Collar Hold and Leg Stroke.
Head Twist.
Head Hold.
Release From Waist Hold.
Seven Places to Apply Nerve Pressure.
Arm and Collar Hold Across the Neck.
Arm and Coat Hold, Parts One and Two.
Arm and Collar Hold and Leg Lock.
The Thumb Twist, Parts One and Two.
Please note: These techiniques are not to be used to hurt or harm someone. They are for self-defense only.

Click Here To Read About The Secret Boxing Lesson